Mobility Advisory Service Seestadt
The Seestadt Mobility Advisory Service (Mobilitätsberatung Seestadt) is a project of the TU Wien funded by the aspern Mobility Fund, which informs and advises the residents of the Seestadt in matters of mobility and choice of modes of transport.
The mobility consulting service helps residents find the perfect individual mobility solution from the wide range of mobility options available in aspern Seestadt. Mobility needs differ, whether you want to save time or money, reduce emissions, or do something for your health: the `Mobilitätsberatung "Am Seebogen"´ is there to ensure that the inhabitants various mobility needs are met.
In free consultation appointments and with our open consultation hours, we can help finding the best bike path, we can show how much money one can save and answer many other questions about mobility in aspern Seestadt. For example, where you can borrow a cargo bike or an e-car, or what else is planned for aspern Seestadt in the future.
"In aspern Seestadt, the sustainable urban mobility of the future is being built. This transformation naturally raises a number of questions that we would like to try to answer or solve together with the residents. Thanks to the prior work and the knowledge of the aspern.mobil LAB, we can build on a lived practice of learning together. And thus hopefully show that sustainable mobility of the future can be a benefit for everyone."
contact 
name: Lukas Knott
email: lukas.knott@tuwien.ac.at
website: https://mobilitaetsberatung-seestadt.wien
sponsor
Sponsored by the "aspern Mobilitätsfond"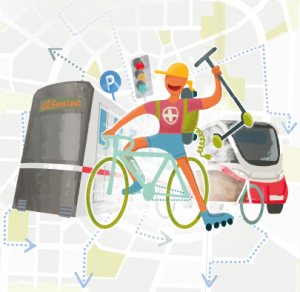 Photo: © Lukas Philippovich